Japan's Largest Railway Company Selects FORUM8 Drive Simulator to Enhance its Employee Safety Training Programme
East Japan Railway Company (JR-East), the largest of the seven Japan Railway Group companies, has installed a FORUM8 Drive Simulator at its safety planning office, part of the company's Electrical Construction & System Integration Office (TESCO) in Shibuya-ku, Tokyo. TESCO's near 1,000 employees are responsible for all the essential JR-East electrical power and energy related requirements needed to maintain the smooth operation of a modern railway system including over-head power cables, signalling, command and control communications and lighting.
The Safety Planning office plays a critical role in developing a culture of safety-consciousness by all employees and gives top-priority to ensuring the company motto– No fatalities or injury to Passengers or Employees – is paramount at all times.  Mr. Masaki Shimoyama, the Safety Planning Office Deputy General Manager said "in exploring a more effective approach to ensuring employee and passenger safety, there are very few risk-free opportunities to provide the essential training in "live" operational situations close to the running trains. Installing a virtual reality simulator means that we can provide our trainees with the skills needed to operate in a wide range of potentially dangerous scenarios, in a controlled and safe environment."
The FORUM8 Drive Simulator has been installed in the Shinjuku Study Center as part of the company's 5-year "Safety Plan 2023" designed to deliver ultimate safety levels across the whole JR-East operation. Started in 2018 the plan aims to engender the principles of safe action and safety management for each employee, making maximum use of the latest VR technologies.
FORUM8 DS is being used specifically to enhance the training of the various vehicle drivers whose job can involve working in and around the JR-East stations and track areas.  This can involve operating close to fast moving trains and negotiating restricted areas and hazardous structures such as pylons and other critical track-side infrastructure.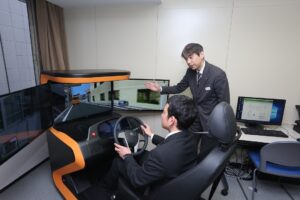 Utilizing FORUM8's award winning VR Design Studio (aka UC-Win/Road) 3D interactive VR software the drive simulator includes all the standard controls and dashboard found in a typical work vehicle, with three display monitors mounted at the front for 180o vision. Trainees are tasked with navigating through a highly realistic, dynamic virtual representation of typical driving scenarios that are controlled from a central instructor desk.
VR Design Studio is used to create urban and rural simulations incorporating roads, buildings, bridges and topological details as well as different traffic and pedestrian movements, road surfaces, weather and light conditions.
The JR-East Safety Planning team has set up the simulator to provide a range of typical driver scenarios based on knowledge and understanding of the special challenges and dangers faced by JR-East employees in their day to day work. More…
These include lessons on urban hazard perception, night-time driving, sudden braking in different road surface conditions (dry, wet, snow and ice), techniques for driving on the highway, location-specific conditions based on local characteristics such as climate and topographic features and driving skills in a range of bad conditions with all the content based on the certified standards for Safer Driving Educational Material.
Ultimately Mr. Shimoyama plans to include the FORUM8 drive simulator as part of an ongoing employee education programme repeated at regular intervals throughout their career to help maintain and continually improve safety levels of the whole organization. "Safety levels can quickly drop off without doing anything, which means it is important to keep on repeating the training to maintain the highest standards.  With the FORUM8 VR simulator we are not only able to recreate the various scenarios as often as necessary but also measure any changes in the individual's skill levels over time as well as  a continually enrich and change the content so that the users don't get bored".
Back to all blog posts